News
Hello
We have all been quite busy recently working on alot of fun new projects. If you missed the show at the camp last weekend, boy did you miss out on some belly dancing fun!
check it out
And a very special film was recently made,expressing what the band really means. Please do have a look.
---
Show Last Weekend
A video has surfaced of Matt Kollar and the Angry Mob Performing the classic Velvet Underground song "Waiting For My Man"
Enjoy the shadowy,megaphone filled, isley brother esque cover!
Matt Kollar and The Angry Mob Live at Clancy's from Christine Hodinh on Vimeo.
Truly an epic show and a fun time was had by all.
Friends Baby Aviators drove all the way down from Arizona just to play for all the lovely people at the venue. And the lovely and talented Diamonds Under Fire rocked the crowed to pieces.
More pictures and such later!
Come out and see the mob in May, they will be playing every week this month somewere in your local California area.
---
Farewell Adventure Documentary
Ever wanted to know more about your favorite new record "Farewell Adventure!"?
Well now is your chance!
Katt Mollar Studios has a produced an 8 min documentary on Matt Kollar and the Angry Mob and the album take a look-
---
Radio Show Video/Show Fri
Last week Matt Kollar and Ryan Macleod were on KOXYs radio station on the show "An hour under rock" promoting "Farewell Adventure!" and themselves.
Here is a video of the event.
The group is also playing this Friday in Huntington Beach at the Irish pub Fitzgeralds with friends The Lafaves.
Tickets are 5$ at the door, come on out.
myspace.com/thelafaves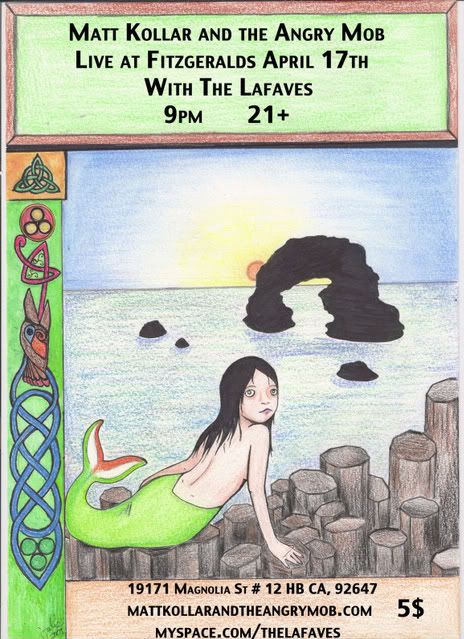 ---
Update,Update,Update
Next Saturday Matt Kollar and the Angry Mob will be playing for free at Portfolio Coffee House in Long Beach with friend Timmy Red.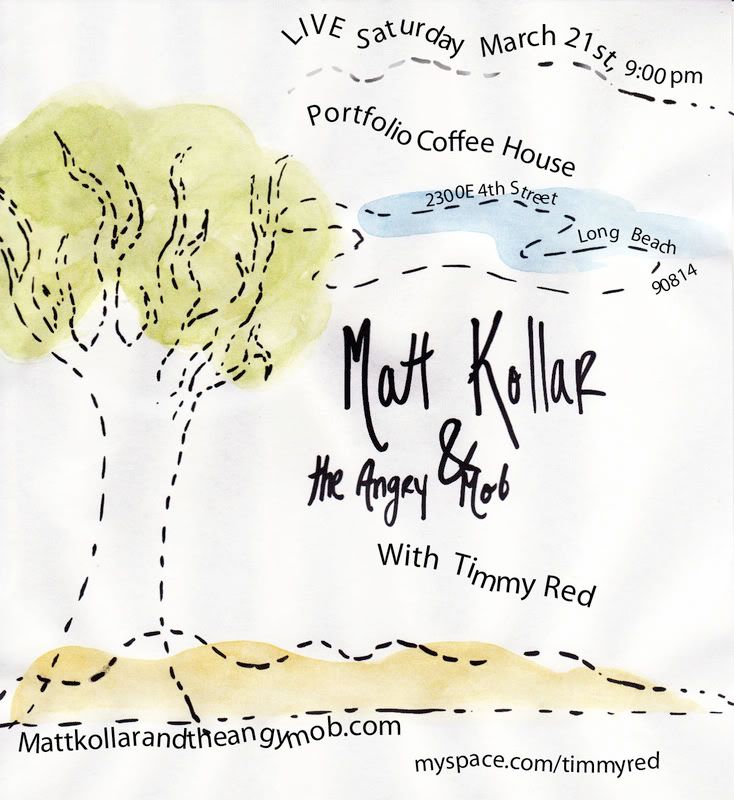 A not to be missed multi-mediaish show.
Also check out the new review of "Farewell Adventure!" in the press section as well as a new video where Matt and Ryan read the press for you! You just have to sit there!
---
Last Weekend
Last weekend Matt Kollar and the Angry Mob played the Royal Theatre Aboard the Queen Mary with Alive Theatre.

The result was mermaids, moving a piano down a flight of stairs, clarinet, and an impromptu recording session in the Propeller Room. See below-
More photos available in the Photos section of the website.
---
Queen Mary Show Fri
So a guy walks in to a doctors office with a duck on his head.
And the duck looks at the doctor and says "Hey doc can you get this guy off my butt?"
For more hilarious anticdotes and all around fun like this come out and see Matt Kollar and the Angry Mob live this week!
This Friday, for one night only, Matt Kollar and the Angry Mob are playing at the Royal Theatre Aboard the Queen Mary. Come to see the group open for Alive Theaters Cherry Poppin Play Festival. Oodles of nautical fun guranteed! A most prestigious event.
The wonderful poster below is made by talented German artist and friend Julie Shipley.
Many good things are also just around the corner dear friends.
---
Interview on Examiner.com
Matt Kollar and the Angry Mob were recently interviewed by Mr. Gary Schwind, Orange County music writer for Examiner.com.
Matt speaks his heart about well known super villain from the James Bond films, Jaws. Have a look.
---
Live Shows+Excited new friends
The shows at The District and Alta last weekend were a great success! Alta was hot and stuffy packed with familiar faces and new ones. We laughed, we cried and we made some new friends.
If you've never seen Matt Kollar and the Angry Mob live you are missing out my friend. It's like that essential trip that every young boy or girl has to take with there parents to the grand canyon. Except when you get there the feeling is much more exciting instead of "Gee theres the grand canyon... sure is a big hole... sure is." If you don't believe me see the look of joy on our new friends faces. They saw the mob at the District and were so excited they rushed home to put matching outfits on and then came back to take a picture with the group.

But never fear, if you havent seen the band yet this could very well be you next time!
Catch them live at the Queen Mary Opening for The Cherry Poppin Play Festival on March 6th. For the price of one you get to see Matt Kollar and the Angry Mob plus four different plays.
---
Live OC Showcase this Friday/Alta This Saturday
This week Matt Kollar And The Angry Mob are feautured in the Live OC Magazine for there upcoming sponsored show this weekend at "The Distict" in Tustin. check it! Come on down and see the group Saturday, its free and you can buy an ice-cream or something of that sort while watching!

Do you like art and coffee?
Do you find yourself always drawn to the latest "hip" trends?
Does this look infected?
If you've answered yes to at least two of those questions above, you should definitly come to Alta this Saturday to see Matt Kollar and the Angry Mob! It is an intimate show the likes of which should not be missed.
---