News
Extras Needed For Shoot This Fri
Hello all,

Matt Kollar and the Angry Mob are goin to be shooting a scene from their upcoming music video this Fri and we need some extras!

It will be at 9am this Friday the 27th, in Newport Beach.
Basically head down PCH towards Laguna Beach, thebn make a left at a street called poppy.
Park, and walk down to the beach!

As extras you will be dressed up like monsters and will have a beach party with the band!

If your interested email us at
mattkollarandtheangrymob@gmail.com for the exact details.

No costumes required, but if you have a specific monster costume or lovely bikini you would like to wear we will not stop you.
Shoot will be in the style of "Beach Blanket Bingo"
Just with more Monsters...
---
Show On The 25th-Witch Yikky
Matt Kollar and the Angry Mob will be playing at Club Moscow@Boardners Wednesday November 25th.
Doors open at 9 and if your 18+ and living in the greater Los Angeles area you should definitly attend! There will be a slew of new friends playing with the band, quite the extravaganza if I do say so myself.
Check out the flier for the show made by Elizabeth Messick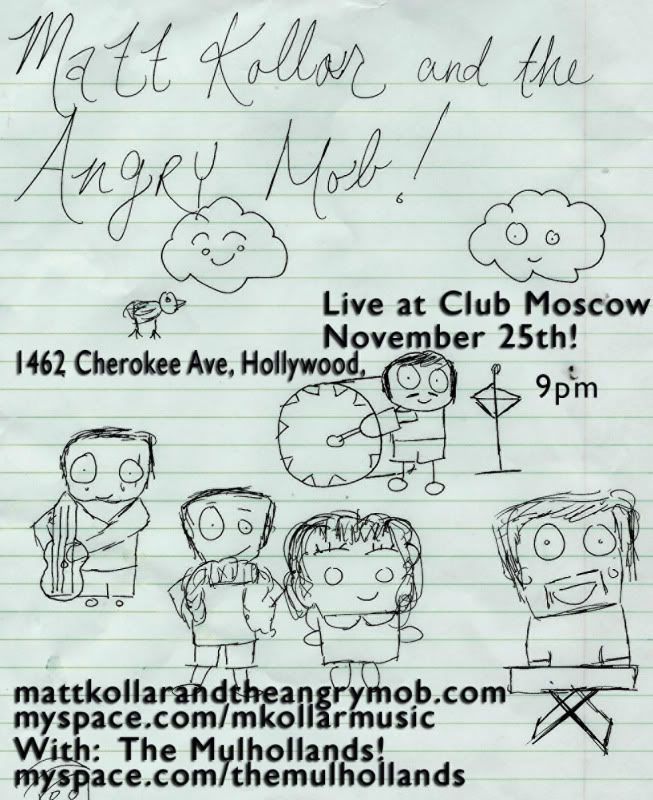 Who is Witch Yikky?
Well to tell you the truth were not exactly sure... About two weeks ago Matt and Nate Bowers were tromping through the dark, thick woods of Huntington Beach when they stumbled upon a strange looking straw hut. Inside this straw hut was an even stranger looking witch, Witch Yikky. Now,ever since we found her in the woods she just wont leave us alone.
Check out some videos of Witch Yikky below. Oh, and apparently she has a twitter now so follow her at Twitter.com/WitchYikky I guess...
---
"Winter Is Blue" The first of our cover blogs
A lot of people always ask us in the Angry Mob "Who do you sound like?" Our response is often an inaudible mumble, or an obscure story or reference.
This is because it is quite hard to answer that question, not because were pretentious jerks though. Well… not only because we are pretentious jerks.
I as well as the other members are into lots of different music and have diverse influences. Therefore every two weeks or so we will be posting a new cover song on the webpage by someone we like or who is influential to our music in some way.
This will ideally show where we get our influences, so you can stop asking us, and we can stop pulling out snooty sounding name drops.
Sound like fun?
The first song is:
"Winter Is Blue" by Vashti Bunyan.
I really love this song, it's just so unbelievably sad and heart wrenching. But it also has that sign of hope in it. Like everything sucks, but its going to be okay eventually. I think that's the sign of a great song when you can get more than one feeling out of listening to it. Another great thing about this song is that she lays everything out in simple plain language so you can get a vivid picture of everything that's going on. Our recording was done awile ago with two guitars myself and Elizabeth "EL" Messick and a bit of glock (enspiel). Vashti has one of the most beautiful voices ever and if you don't know who she is I strongly recommend getting into her music. she's still making records today, Ben Gibbard and Feist recently recorded a version of her song "Train Song" for the Dark Was The Night Compilation. Plus She traveled around Europe in a horse and buggy in the 1960s, how Cool is that!?!

-Matt

Check out our version here- Winter Is BLue by mattkollaratam
The Original here-
Vashtis Winter Is Blue
And a really good bio on Vashti Bunyan at Fat Cat Records here

---
Halloween Is Awesome!
Helloooooooo,
Matt Kollar and the Angry Mob have a Show at Mr T's Bowl in Highland park on October 23rd.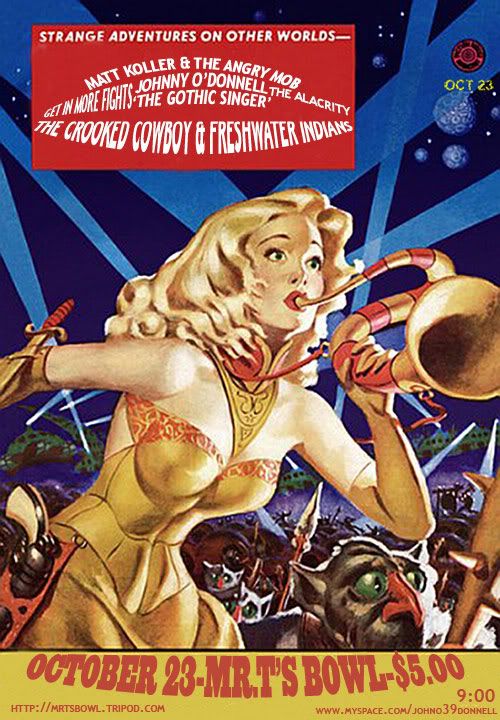 Due to its close proximity to Halloween the group will probably be dressed to the "T" for the occasion. (That was a joke, get it?) But seriously, you should dress up too. It's going to be alot of fun.
If you need more reason why you should attend, check out the new video below.
---
Public Television Here We Come!
---
Review Of The Prospector Show
Hello friends, the Matt Kollar and the Angry Mob show at the prospector was reviewed and published in the Long Beach State College newspaper.
Check it out here
Also, tonight Matt and the gang are on Time Warner Digital Cables public access channel. If you live in Orange, Hutington Beach, or fountain Valley Check it out.
---
Read Fine Print
Elizabeth and Matt were recently in a short film written and directed by good friend Knock. Check it out. "If you've ever wanted to see me in my underwear eating cake, this is the video for you"- Matt
Read Fine Print from Knock Knock on Vimeo.
---
Shows This Month
Hey all,
There's lots of fun shows coming up this month starting with the one this Friday at the Ugly Mug in Orange CA.
It's our new drummer Nicks first show, homeboys getting his feet wet. Soaked really. Come on out and take a listen!
We also have a show in Long Beach at the prospector on September 22nd and at Skinny's Lounge on the 28th in North Hollywood.
Have a look at this video for more info
---
New Interview
Matt Kollar and the Angry Mob were recently interviewed by Lamia Larkin for the OC Arts And Culture Magazine. Check it out
here
---
News!
Hello friends.
Matt Kollar and the Angry Mob are featured in Issue 64 of The Big Takeover along with many great bands such as The Decemberists and Death Cab For Cutie. The Magazine is available on stands now at your local Barnes and Noble etc nationwide. Theres a wonderful review that you can check out in our review section as well as some art for "Farewell Adventure!" done by Julie Shipley.
---